Welded wire fence

Wire fence is made of low carbon steel wire Welded wire fencing has the features of high strength, beauty, uneasy deforming, quick and easy installation. They are widely used as protective belt in highway, railway and bridges, as security fence in airports, harbor, wharf and living sites. They are also used in city government, parks, lawn, zoos, lakes, roads and industrial sites for protection and isolation. They can also be found in hotels, supermarkets, recreation area for decoration of protection.
Welded Fence Series: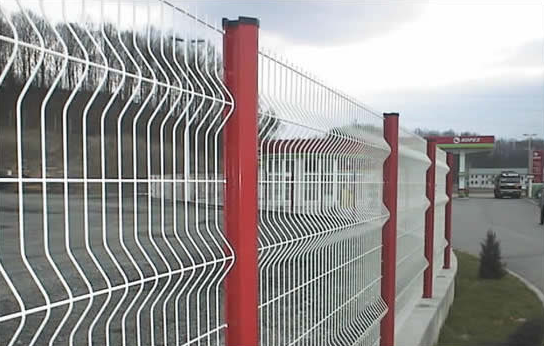 Features: Curvy welded fence has simple structure, beautiful appearance and suitable benders. The surface can be treated to dip plastic with different colors, such as yellow, green, red. This type fence mostly uses post with bottoms, thus it just needs to install bolt.
Uses:Road fence, railway fence, living site fence, industrial fence, school isolated fence, development zone fence and so on.
Products Specifications:
Wire diameter:5.0mm
Sizes:50mm X 180mm
Post size:48 mm X 2.5mm
Panel size:2.3m X 2.9m
Anti-corrosion treatment:Dip plastic. Many colors are available.
Post:Peach-type post
Other accessories:Anti-rain cap, bolt, clip.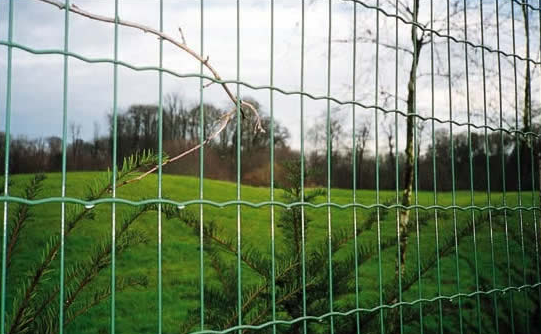 Features : It is made with low carbon steel wire after welding. It has the features such as high strength, good steel, beautiful appearance and easy installation.
Uses:They are widely used as fence in green ground, gardens, office fields, roads, airports and harbors.
Products Specifications:
Material: Q235 low carbon cold rolled steel wire.
Plastic coated wire diameter: 4.0-5mm; Galvanized wire diameter: 3.1-5.0mm.
Mesh opening: 75mm X 200mm.
Installation size: 1.8m X 3m.
Post: Φ48X2200mm round post.
Support: per 15 meter one stick.
Finish treatments:Plastic coated, galvanized.
Other accessories:Anti-rain cap, bolt, clip.
Framework Welded Fence

Features: Framework welded fence is one flexible product. And they are widely used in roads, railway, and highway in China, are made into permanent fence wall, and are also used as temporary isolated fence. We can establish all uses with using different fixed post types.
Uses:They are widely used as protective fence in roads, railways, airports, residential sites, harbors, gardens, feeding.
Specifications:
Plastic coated wire diameter: 4.0-5mm; Galvanized wire diameter: 3.1-5.0mm
Mesh opening (mm): 75x150  
Mesh Panel (mm): 1800x3000
Border width (mm): 30
Border thickness: 1.5-2.5mm
Anti- corrosion treatment : Dip plastic. Many colors are available.
Post : Square post and rectangle post.
Other accessories:Anti-rain caps, clip, bolt.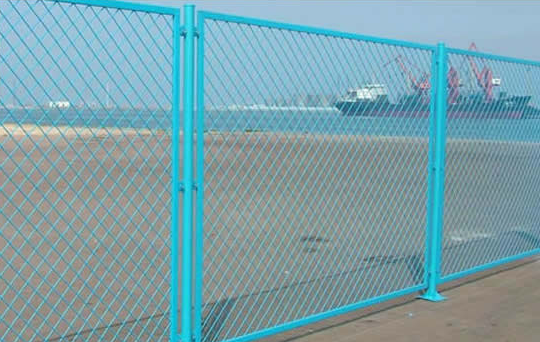 Double Wire Fence
Double wire fencing description:
Double wire fencing uses high quality low carbon stainless steel wire as raw material. It is welded with one vertical wire and two horizontal wires; this can be strong enough, compared to the normal welded fence panel. The wire diameters are available, such as 6mm×2+5mm×1 ,8mm×2+6mm×1. It obtains high strong powers to resist the construction.
Post: This System usually choose Square Post (50×50mm, 60×60mm), Rectangular Post (80×60×2. 5mm, 120×60×3mm) and peach post with the high strength and so on. With plastic caps or Roofing rain hat. The finished surface usually is Galvanized and Powder coating, or alternatively.

Fastenings:The Panels and posts are jointed together with bolts or rivets, using the steel flat bar or special steel clamps, all nuts are self-locking. This also can be designed as the special clients' requests.

Double Wire Fence Specifications: The special specifications are available on request.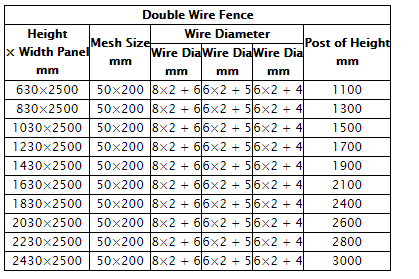 Finish treatment:Galvanized / Polyester coated green, other standard colors are available on request. It can resist the corrosive and ultraviolet radiation very strongly, and it can keep original color and long-time using.
Application:
Double wire fencing has the features of grid structure, beauty and practical, landscaping. In addition, double wire fencing is easy for plants to climb and widely used in parks and living areas.


Because of the double wire fencing features of easy transportation and installing without the limitations of special terrain. It is adjust to mountain, hillside and winding zones. Double wire fencing as professional fence is used in airports and military bases. While adding elbow, razor wire, barbed wire and other security accessories, it can protect the enhance sites further more.

The double wire fencing price is under the medium level, it is widely used in industrial sites, playing fields, entertainment, schools and nurseries as security fencing.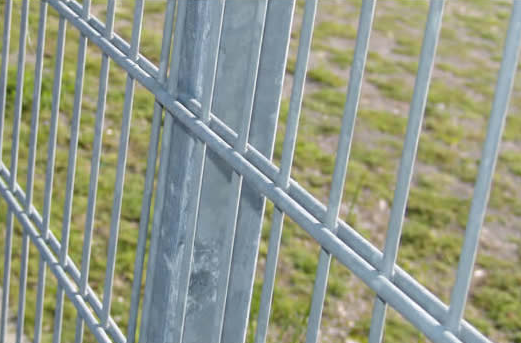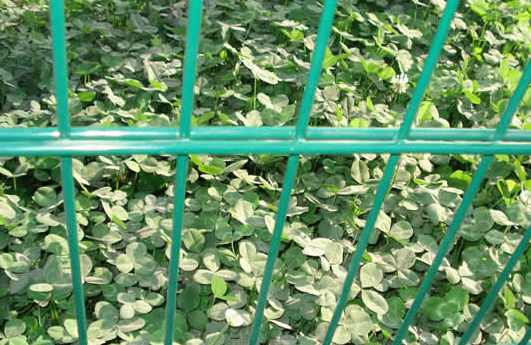 Razor Wire Fence
Introduction and Application:
Razor wire is made with hot-dipped galvanized sheet or stainless steel sheet to perforate the sharpe blade and high tension galvanized steel wire or stainless steel wire as core wire. With the unique shape, razor wire is not easy to touch, and get the excellent protection. Razor wire fence as a new type of protection fence, is made of straight-blade netting welded together. It is mainly used for garden apartments, institutions, prisons, post, border protection and other confinement; also be used for security windows, high fence, fence.
Feature:
High protection, it is almost impossible to climb.

High-strength steel core very difficult to cut off.

Powerful security fence barriers neat appearance.

Extremely simple to install, needs three to four to install molding.

No secondary use, so he will not be stolen.

Anti-corrosion, aging, sunscreen, weather.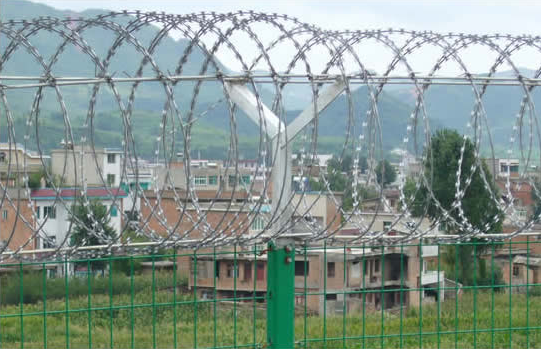 Treatment Process:
The use of steel (blades) attached to the hot stamping molding package galvanized steel wire (wire) above by the sharp angular sheet galvanized steel or stainless steel blade to do, to do high-tension steel wire combination.
Materials:
Core Wire Materials: Use the high- quality hot-dipped galvanized high carbon steel wire, hot-dipped galvanized medium carbon steel wire, stainless steel wire, etc.
Razor Wire Materials: Use the high- quality hot-dipped galvanized steel sheet, stainless steel sheet.
Main Types:
Razor barbed wire fence, according to the way of installment, has three types: Sprial razor wire fence, Straight razor wire fence, Flat razor wire fence and so on.
Spiral razor wire is also known as snake bellied fence. It is divided into two types: single concertina razor wire and spiral cross type razor wire. Single concertina razor wire without using the clip can be installed in accordance with its expanded natural form. Spiral cross-type razor wire is made with stainless steel sheet and galvanized steel with a strong clip between two razors, It is beautiful and practical after the commencement of branding cross-shaped.
Flat razor wire is a new application form, it is the lap-style flat blade pressed into plate-like gill nets, or gill nets, two laps after the cross with the wrong voltage level to use, aesthetically pleasing and practical, with straight blade with the use of gill nets to form a straight line on the plate under the fence, or just flat gill nets form a protective wall. It is mainly used in residential, warehouses, livestock factories, farms, mines, prisons, and other defense powerhouse.