Aug. 31, 2020
The safety net consists of a net body, side ropes, tethers and tendons. The net body is made up of mesh ropes and has a
diamond or square mesh. The distance between two adjacent knots of the braid is called the mesh size; the rope on the edge
of the mesh is called the side rope. The size of the safety net (nominal size) is determined by the size of the side rope; the rope
that secures the safety net to the support is called a tether. In addition, the ropes used to increase the strength of the safety net
are collectively referred to as tendons. The material of the safety net requires small specific gravity, high strength, good wear
resistance, high elongation and durability. In addition, it should have a certain weather resistance, and its strength will not
decrease much after being wet and wet. The safety net is made of chemical fiber. All the net ropes on the same safety net
shall be of the same material, and the wet-dry strength ratio of all materials shall not be less than 75%. Usually, synthetic
fibers such as vinylon and nylon are used as net ropes. Polypropylene is not allowed to be used due to its unstable performance.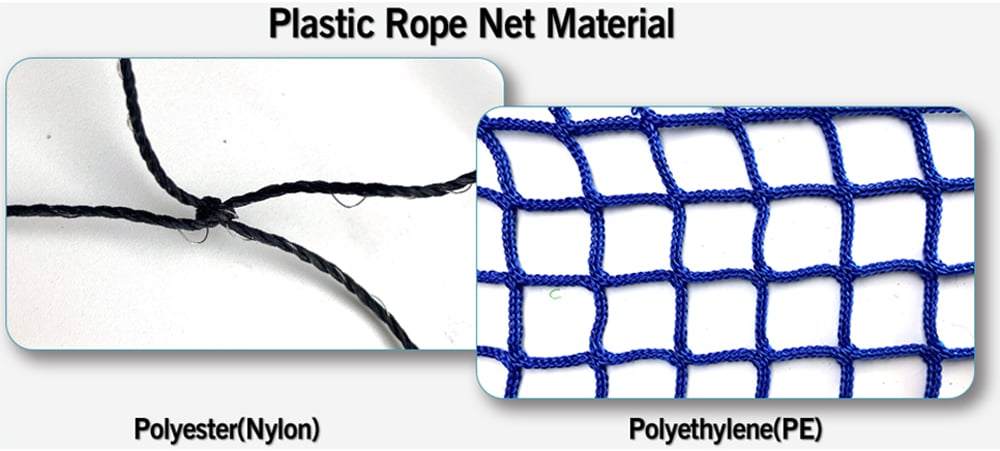 1.Product name : Plastic net/ Fishing net/Anti bird net
2.Material :HDPE/Nylon/PP etc.
3.Color : Black/white/green/black, etc.
4.Hole shape: square hole.
5.Usage: Mainly used in :Fall protection, Goods protection, Field net, anti bird net, Fishing Plastic rope net usage is extensive,
such as:
1.falling objects protection,protect the workers.
2.wind and dust controlling,beautify the construction site.
3.enclosure systems to protect people around.
4. for goods loading in airplane, trucks, trailers or containers