---
● Aluminum Filo Shade Net Description
---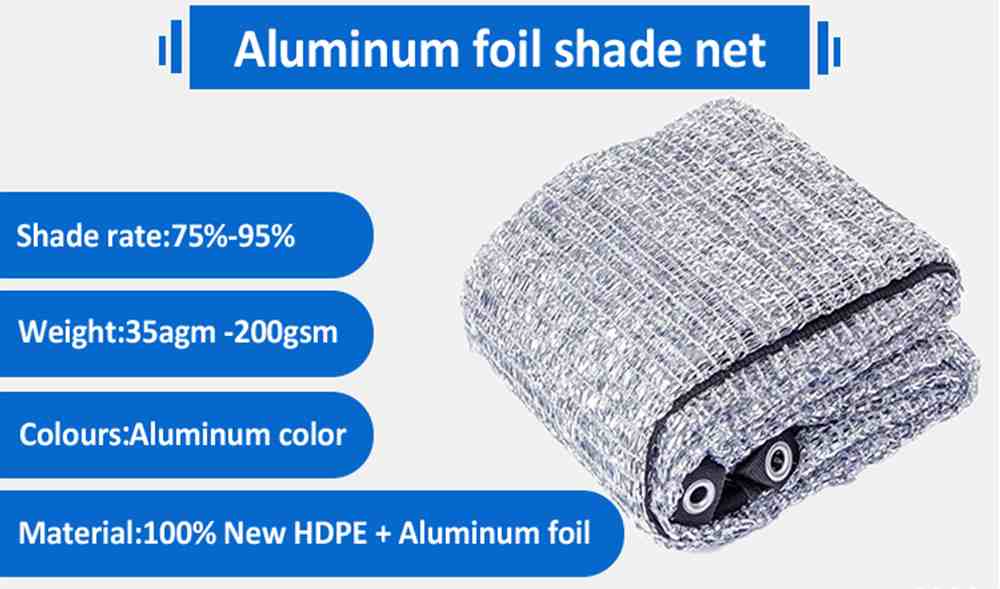 Reflective Aluminum Foil Shade Net Sunscreen Silver is made of high quality knitted hdpe with Aluminum Foil Fabric. Aluminum Foil Fabric can reflect sunlight and reduce the environmental temperature AluminumShading Net even could save energy. Silver Mesh Shade Nets Mesh acts like a mirror reflecting away the sun and it's heat while allowing you to enjoy a cooling breeze. Aluminet is a high quality reflective metalized HDPE knitted thermal screens and as an alternative to black shade cloth.Shade fabric helps protects plants and people from direct sunlight and offers superior ventilation, improves light diffusion, reflects summer heat and keeps greenhouses cooler. Easy to install and remove.

95% Reflective Aluminum Foil Shade Netting,China Aluminum Foil Shade Net for Greenhouse with High-Quality, Leading Aluminum Foil Shade Net for Greenhouse Manufacturers & Suppliers.

---
● Aluminum Filo Shade Net Specification
---
---
● Aluminum Filo Shade Net Advantages
---
● THE TEXTURE IS CLEAR
Our shade net has excellent high elasticity. The surface of the hade net is smooth and smooth, and the mesh lines are clear;
● THICKEN EDGE
Our shade nets has long lasting time.The edges of the shade net are thickened,which are strong and durable;
● ANTI-RUST BUTTONHOLES
Qur screens have rust - and corrosion-resistant buttonholes;
---
● Aluminum Filo Shade Net Package
---
● We have 5,000 sqm warehouse to stock goods
● we have professional warehouse management system, not only keep clean and dry, but also ensure the packing
● All the goods stock respectively according to different orders.
● We check the container carefully to ensure it without any damaged or damp when loading.
● We have our logistic team to ensure the best freight charge and port charge.
● We guarantee the maximum quantity of goods can been loaded